Are Photography Workshops Worth It? My Experience at the Evolve Workshop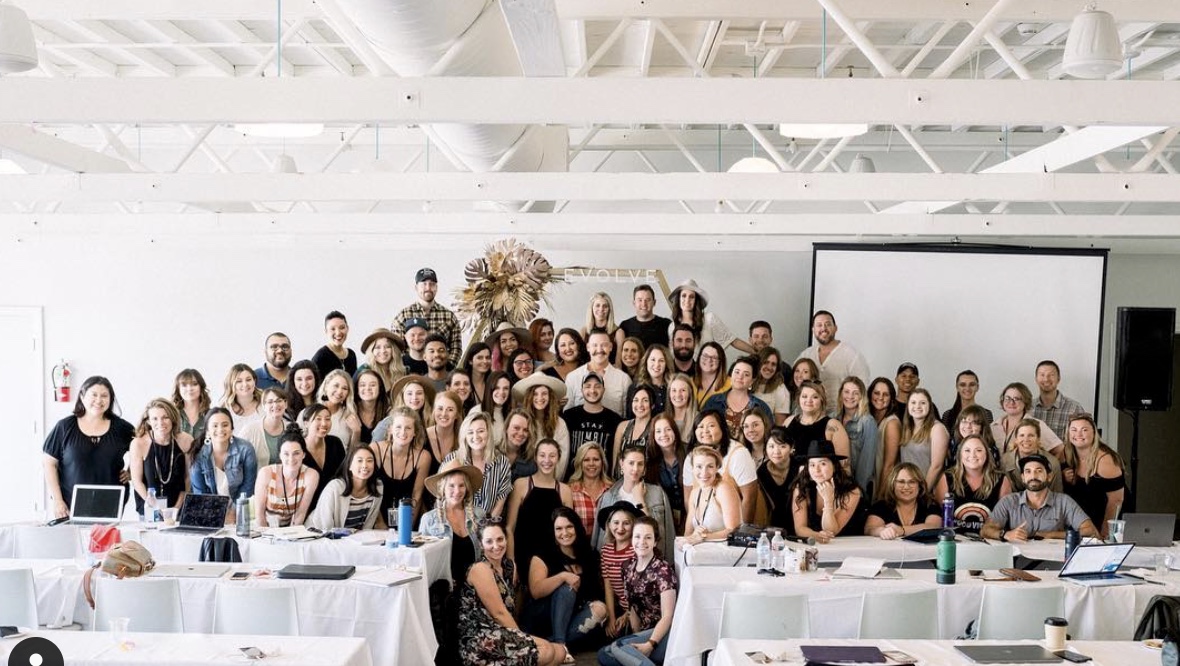 There is a huge trend of workshops out there for all levels of creatives and photographers. I have heard many horror stories and or just not great reviews for the $$$ so I have been very skeptical and analytical in making my choices for where I will invest my education budget.
Last week I had an incredible opportunity attending the Evolve Workshop in Palm Springs, California. according to their website:
Evolve has prided itself over the years of not only being one of the first multi-speaker events in our industry, but one that fosters connection, authenticity, and vulnerability and leaves you feeling empower, inspired, and ready to take on the world... BUT with tangible step by step education that actually lets you take that motivation and turn it into one freaking amazing business.
I came home recharged and full of inspiration and needed to share a few things I took away, to include dozens of new friends and mentors! This was the right choice for me!
Let me start by saying being an entrepreneur was never on "my list" growing up on what I wanted to do. In fact, when you refer to my childhood diary I was most definitely going to be a veterinarian. I am nowhere near that, though I do live on a hobby farm with dozens of animals and am solely responsible for their care. BUT, from middle school on, you could bet you would find me with a camera in hand.
I was raised primarily by my Grandmother, in her mid-late 70's, a women who and a child went through the Great Depression and a women who raised 3 children primarily on her own after her husband became violent. She was strong, stern and she had plans for me … first, COLLEGE … and I tried. I had my first year paid for in scholarships that I worked my butt off for but I dropped out in my first semester! I knew immediately it wasn't for me (at least at that point in my life). Feeling down on myself I knew and like I was letting her down, I enrolled in community college to take a few classes and one was a digital photography class. A required item for the class was a DSLR (Digital single-lens reflex camera). Because it was a required item, I was able to use scholarship money to purchase my first awesome camera, a Nikon D70! I had zero idea what to do with it unless it was in "auto"…. that was a long time ago but I will never look back and regret leaving college (and no, I am not telling ANYONE to drop out) because it was a part of my journey that has me exactly where I am today!
Back to the workshop. This year is the first year in my business that I have invested heavily in to my own education. In the past I have used dozens of online resources. Some were pretty good, others were complete waste of money. I had hear many good things about the Evolve workshop from various other creatives on social media and after talking the trip over with my husband I knew I needed to go and step out of my comfort zone.
I had a 3 hour UBER ride from LAX out to Palm Springs but was able to find a couple other people (via social media) who were flying in around the same time as me and we set up a ride share. Instant friendships started in that car and the week only got better. I sat through talks from Brooke Davis, Rodney Brown, D'Arcy Benincosa, The Hons + so many more incredible industry leaders and pioneers! I was also able to shoot alongside Morgan Olsen (photos below from that shoot).
As a creative entrepreneur, it is so easy to look up to so many other professionals and have a feeling of "not good enough" and constantly comparing my work to others out there. I know I love what I do, I love my clients, I love the whole gig …. but there are so many deep pockets in this type of business and I know I need to invest in my education and learn everything I can and from multiple sources and leaders in the industry if I want to stay relevant, successful and stay true to my own purpose. I made dozens of new friends who are currently blowing up my phone in a group chat on the daily! Some are even planning a trip to Oregon so I can show them around and we can set up some more incredible sessions, learn from each other and just hang out. I came back with 14 pages of typed notes, actionable items to work on to increase my value to each and every one of my clients and new avenues to pursue so I don't get "burnt out".
I can't put my guarantee on many things but the Evolve Workshop was affordable and WORTH IT! The people I met, the lessons learned and the experience was EVERTHING and I can't wait to implement some of this incredible knowledge!
So … here are the shoots I did!
Styled Shoot with Morgan Olsen - In Frames Photography
And if you're still with me!!!! WOW! thanks for scrolling through … here are my new friends Krystal & Caleb who were great sports and hopped in for photos!